John wearing his signature cowboy kerchief
John Melville Kelly moved with his family from his birthplace in San Francisco and was raised on a cattle ranch outside of Phoenix. His father was a "settler" in Arizona when the ratio of Native Americans to whites was about 200 to one. John returned to the Bay Area at the age of 19, to attend art school. He graduated from Partington School of Art and also studied at the Berkeley School of Arts and Crafts. After art school in 1905 (a year before the earthquake and fire), he was hired as a graphic artist by the San Francisco Examiner where he worked until 1920. He then launched a successful career as an independent advertising artist.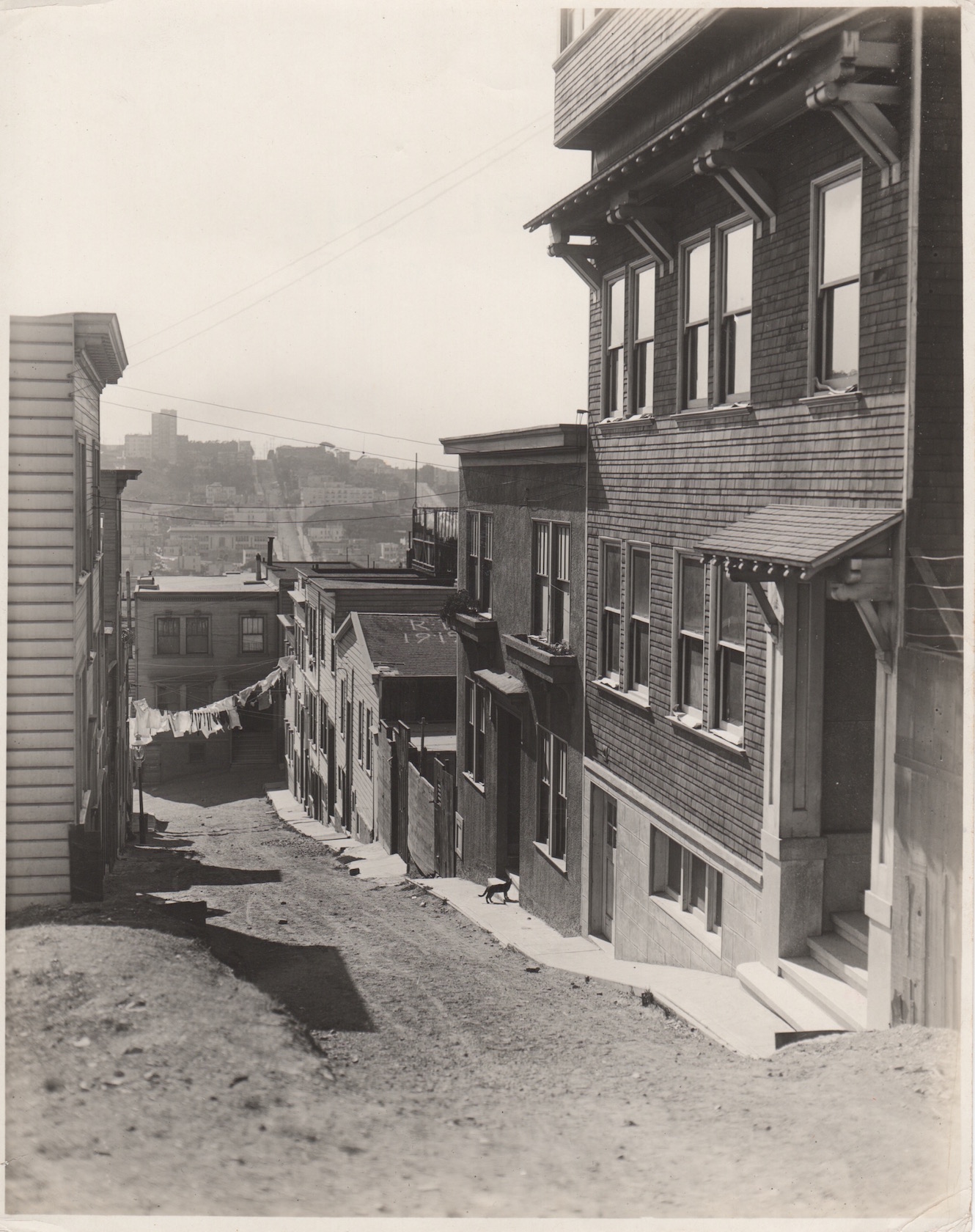 Their apartment in the Nob Hill artists community in San Francisco became a gathering place for artists and actors.
John met Kate Harland in 1903. They were both involved in the controversial Bohemian club of Berkeley. After the earthquake and fires of 1906, John relocated in Berkeley. John and Kate were married in 1908 and resided in the East Bay.
In 1923, he travelled on assignment to Hawai'i with his artist wife, Kate, and their young son. John k had been commissioned to illustrate a new housing development on the island of O'ahu. They fell in love with Hawai'i and never left.
Upon arrival to Honolulu in late 1923.
An early etching by John appeared on the cover of a 1926 local trade magazine.
John was an exceptionally talented graphic artist who evolved into a master printmaker. While working as Art Director for the n Honolulu Star Bulletin newspaper, he was creating art in every spare minute. He became known as the "Sunday etcher." John and Kate were beginning to make their mark as local talented artists. In 1926 just over two years after arriving in Honolulu, they had a joint exhibit of their etchings at a well-known Waikiki gallery.
John with Old Kalama at his home. He was an expert in la'au lapa'au, (Hawaiian healing herbs)
In addition to printmaking, Kate Kelly was an award-winning sculptor. For several reasons, she later gave up sculpting for photography and helped to promote John's work. Her legendary photographs were instrumental in John's depiction of Hawaiian people and their culture.
John and Kate lived near a Hawaiian fishing village. They quickly became familiar with many aspects of the culture and established lasting friendships with local fishermen and their families.
John went on to help found the Honolulu Printmaker Association, housed within the Honolulu Academy of Art (now the Honolulu Museum of Art.). The Academy featured his work in numerous solo and group exhibits throughout the decades, the last being a major exhibit of his work in2005, which produced the beautiful catalogue of the exhibit, "Hawaiian Idyll: John Melville Kelly" by Natasha Roessler.
Thanks to Kate, John did an exhibit at a gallery in New York in 1934 where he received rave reviews. His etchings won numerous awards at printmaking shows throughout the United States. He was a member of the California Printmakers, the Chicago printmaker, and Prairie Printmakers Association.
John Kelly's art original etchings are in numerous museums including the National Gallery of Art in Washington, D.C., the Fogg Museum and many private collections.
Kate sculpted the busts of several Hawaiian friends and was commissioned to produce numerous bronze plaques commemorating historic places and people.
Selected Private Collections and Museums:
Janet Gaynor

Mrs. David Levy, New York

Shirley Temple

Don Straus, New York

Mrs. Robert P. Scripps

Mrs. J.C. Scully

Jack Kapp, New York

Mark Gerstle, San Francisco

Carrie K. Rothschild

Roosevelt Thompson, New York

Walter Brewster, New York

Gordon Mendelssohn

Jack London, author

Harold Bell Wright, author
President Franklin D. Roosevelt

Henry Morgenthau -Secretary of the Treasury, FDR

Fogg Museum, Harvard University

De Young Museum, San Francisco, CA

Paul Sachs

Lessing J. Rosenwald

National Gallery of Art, Washington, D.C.

N.Y. Public Library

Doris Duke Cromwell

Mr. and Mrs. Lawrence Tibbett

Albert Spaulding

Spencer Tracy

Frances Marion
Important collections in Scotland, France and England